Office Scheduling


Software
Give your employees a flexible tool to manage their schedules. UnSpot scheduling software is a helpful tool that allows hybrid teams to seamlessly schedule their office visits and collaborate on-site or off-site. UnSpot provides smart solutions for desk booking, increased productivity, efficient work scheduling, and space optimization.
Bring your team together in the office quick and easily
Your employees will receive convenient software to book meeting rooms in one click from
a desktop, mobile app, or meeting rooms display
Make data-driven decisions
Using UnSpot Analytics you will find out the best days to invite people for meetings, also you will be able to get statistics for meeting rooms usage to know how much space your team needs
Get an all-in-one hybrid office solution
UnSpot includes desk booking system, work scheduling, office analytics, navigation and interactive maps
Create your perfect
hybrid office
Easy office management
A simple interface allows employees to create their preferred hybrid work schedule within minutes.
Easy access for supervisors to edit all schedules, with automatic notifications letting employees know their schedule has changed.
With UnSpot, employees can find out if their teammates are on-site on a particular day and invite them to a meeting or book a nearby desk.
Interactive maps provide real-time desk and meeting room availability.
UnSpot is available on desktop and mobile devices



Create

a data-driven hybrid team
On the day the employee comes to work, UnSpot confirms the schedule and updates the information in the system.
The employee receives alerts if someone from his team unexpectedly decides to come to the office so he doesn't miss the opportunity to have a meeting.
Each employee keeps track of their own schedule as they can see when their teammates have signed up for their updates, and it's important for them to meet in person.
Design

your hybrid office for seamless collaboration
Employees will stay up-to-date on all team meetings and updates.
It's easier to meet new colleagues, invite teammates to lunch, and initiate non-working team meetings via UnSpot.
The system monitors attendance, preventing people from coming on-site if the office has already reached its capacity limit and runs out of bookable seats.



What else can you do
with
UnSpot?
Book desks in one click
Explore desks booking trends and identify ways to better manage your space
Get a set of tools for the safe return of your employees to the office after the pandemic
Get started with
UnSpot
Don't let hybrid work get in the way of collaboration. Give employees an easy way to manage their hybrid schedules, invite colleagues to a seat, and book the nearest table.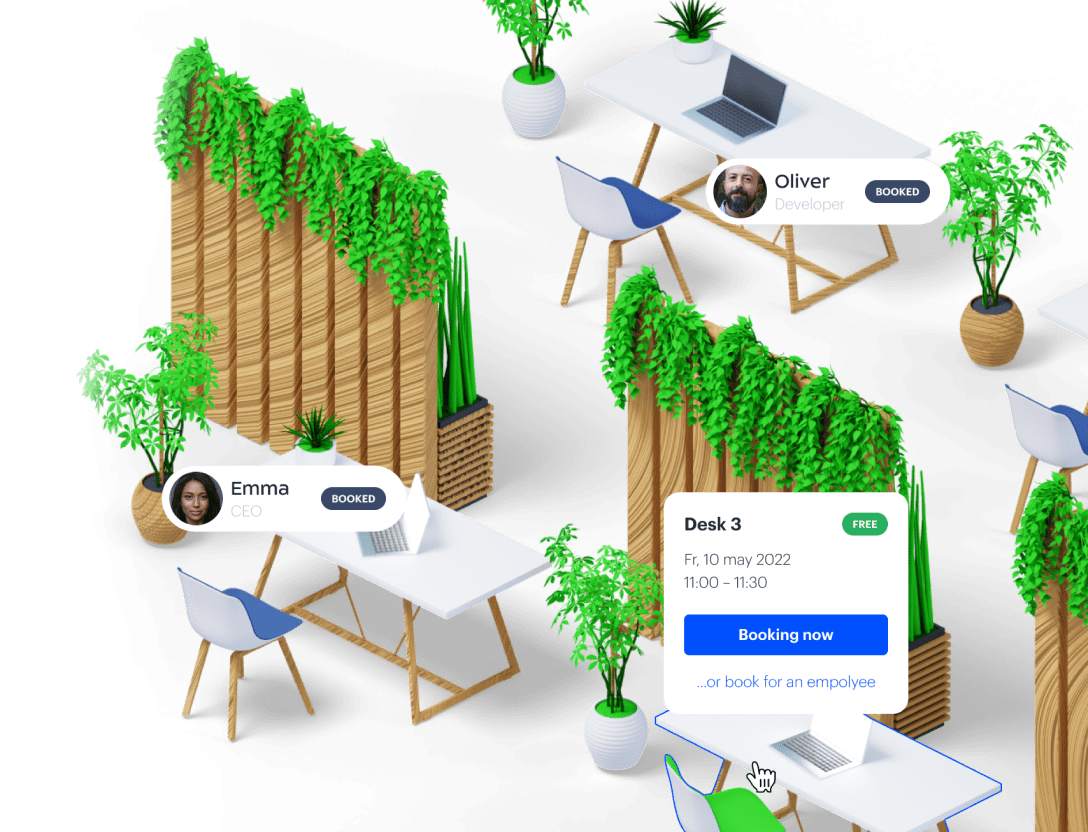 Seamlessly
integrate

all of your favorite tools
Jira
Okta
Zoom
Slack
Microsoft 365
Aruba Clearpass
Zendesk
Exchange
Outlook
Microsoft Teams
Brivo
Asana
Google WS
Gmail
Google_Meet
Google Calendar
Microsoft Teams
Aruba Clearpass
Openpath
Making the hybrid office convenient
for everyone
Hire twice as many employees without expanding your office.
Find out how many work spaces your hybrid team needs so you can reduce rent or find a smaller, more convenient, and better-located office for the same price.
With a comfortable office and a convenient desk booking system, your team will become more loyal and productive.
Our Clients
✕
Faced with modern realities, we decided to find a partner to build a desk booking system. With the help of UnSpot, we were able to completely solve the problem of switching to a hybrid work format for employees, and reduce the area of ​​​​offices, thereby reducing rental costs. We like that UnSpot allows us to organize our workspace quickly and flexibly, and our staff appreciated the simplicity and convenience of the booking system.
UnSpot promptly deployed a system for booking desks and meeting rooms for us, connected and configured our tablets to visualize the meeting schedule. We were also offered a test period with good conditions and product customization to solve our problems.
We actively use UnSpot to organize meeting room reservations and thanks to this we were able to optimize office space and use it more efficiently. I would especially like to note the user-friendly interface and the ability to install a tablet in front of the meeting room to visualize its status – this is very convenient for employees and simplifies the organization of meetings.
Pricing
Small and Middle-size companies
10-999 employees
$5 / month per user or $10 / month per desk
Large-size companies
1000+ employees, customizable features and integrations
Price on request
Get started with
UnSpot
Don't let hybrid work get in the way of collaboration. Give employees an easy way to manage their hybrid schedules, invite colleagues to a seat, and book the nearest table.