Desk Booking


System
Book desks and meeting rooms in one click and get smart solutions for increasing productivity, work scheduling, and office improving
Make your hybrid team more efficient
Your team will receive convenient software for desk booking, holding meetings, and organizing hybrid work. As a result, your employees will become more loyal and productive.
Create a data-driven office
By leveraging UnSpot Analytics, you can make informed decisions based on data. This tool enables you to determine the most suitable days for scheduling meetings and obtain statistics on desks usage, getting insights into the amount of space your team requires.
Use your office space efficiently
Build a better employee experience with flexible scheduling, find out how many people you can hire and when the office needs to expand
Create your perfect
hybrid office
Find and book desks, in one click, from
anywhere
Smart tool to book desks and meeting rooms
Easy-to-use intuitive interface
Available on desktop and mobile devices
Interactive maps with real-time availability
Book favorite seats and see a list of available equipment
Versatile set of tools for a safe return to the office after the pandemic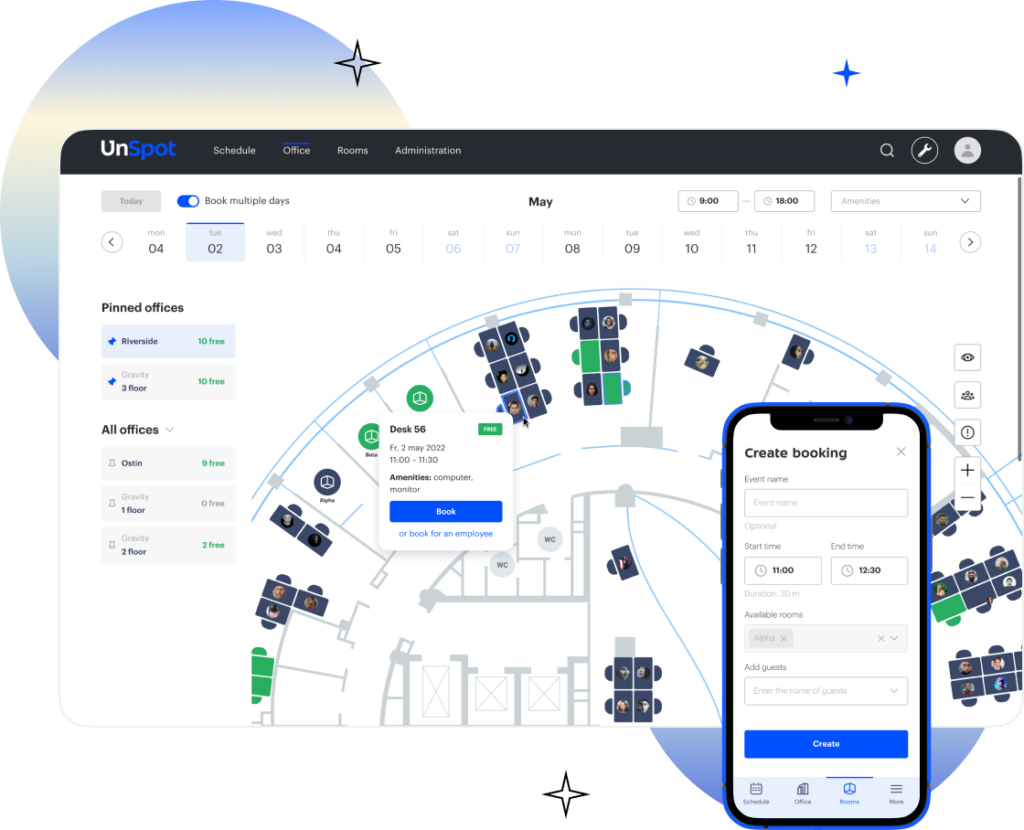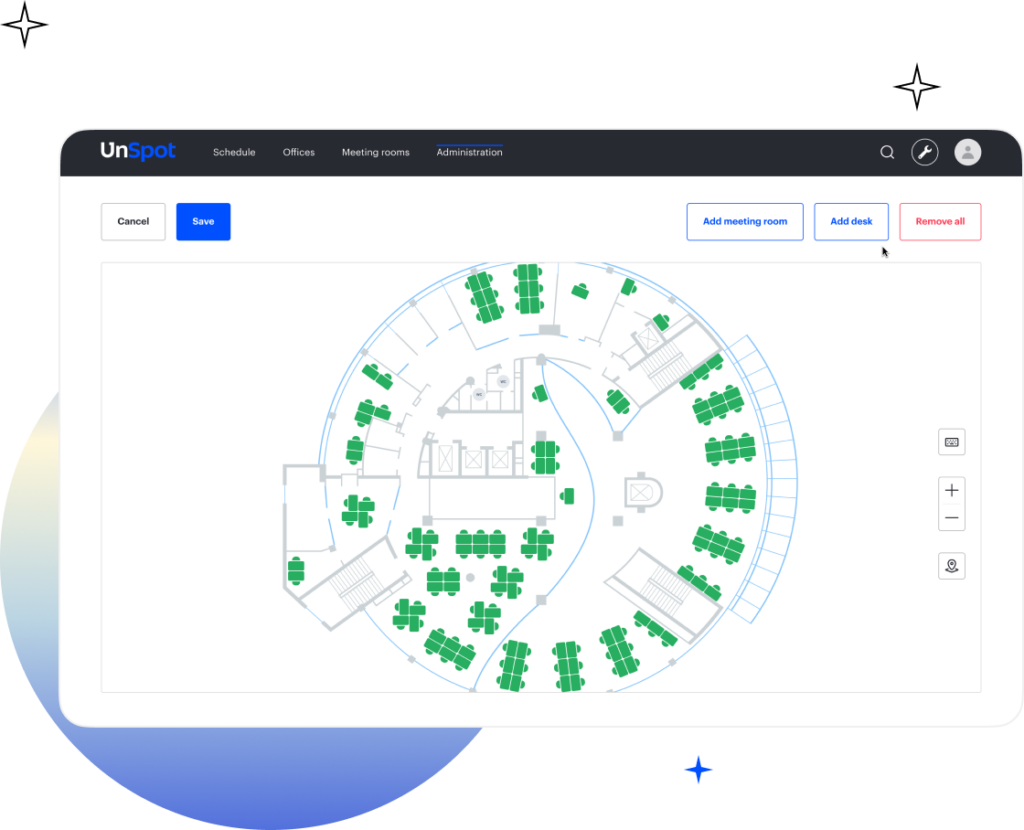 Effortlessly streamline your
workspace management
Your custom interactive office map is built by the UnSpot team
Drag and drop desks on the virtual map to optimize your office layout
Set booking permissions and availability
Integration with all popular calendars and email clients
Training employees to use the service takes no more than 10 minutes
Get all the information you need to
improve

your office
Explore desk booking trends and identify ways to manage your space better.
Keep your employees healthy if anyone gets sick with quick and easy contact tracing reports ready for export in seconds.
Update your office maps and see all available resources. Changes are reflected across all devices instantly.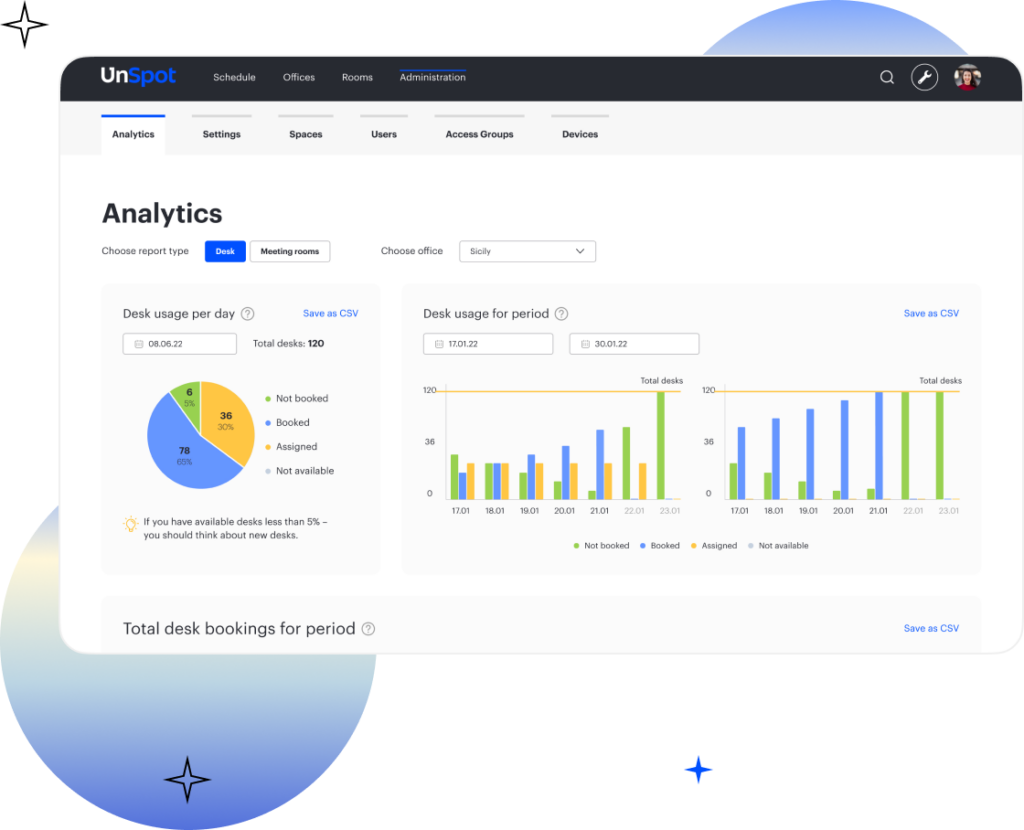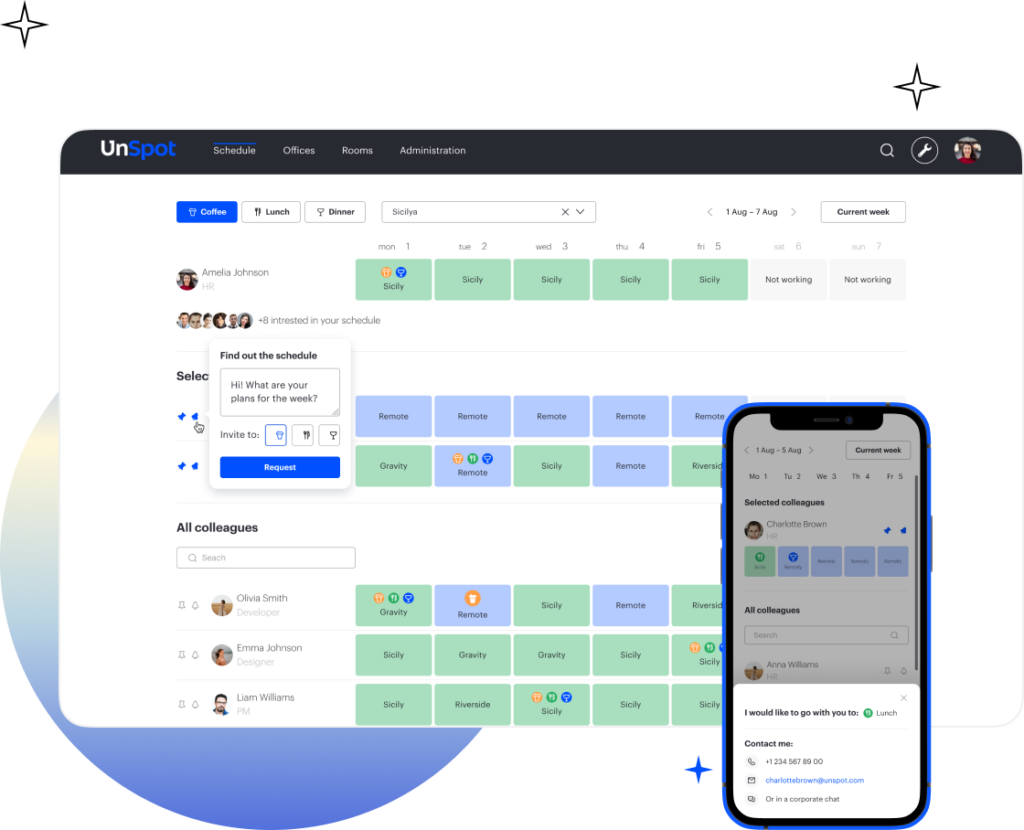 Boost

your team's productivity

Employees will get a flexible tool to set their schedules and, if necessary, synchronize them with one another. Now it will be easier for the team to plan meetings in the office, and managers will not have to spend extra time coordinating schedules.
Parking management system
UnSpot booking system can be used for parking spaces as well as for desks and meeting rooms.
Set permissions and fixed seats for your employees
Book parking spaces in one click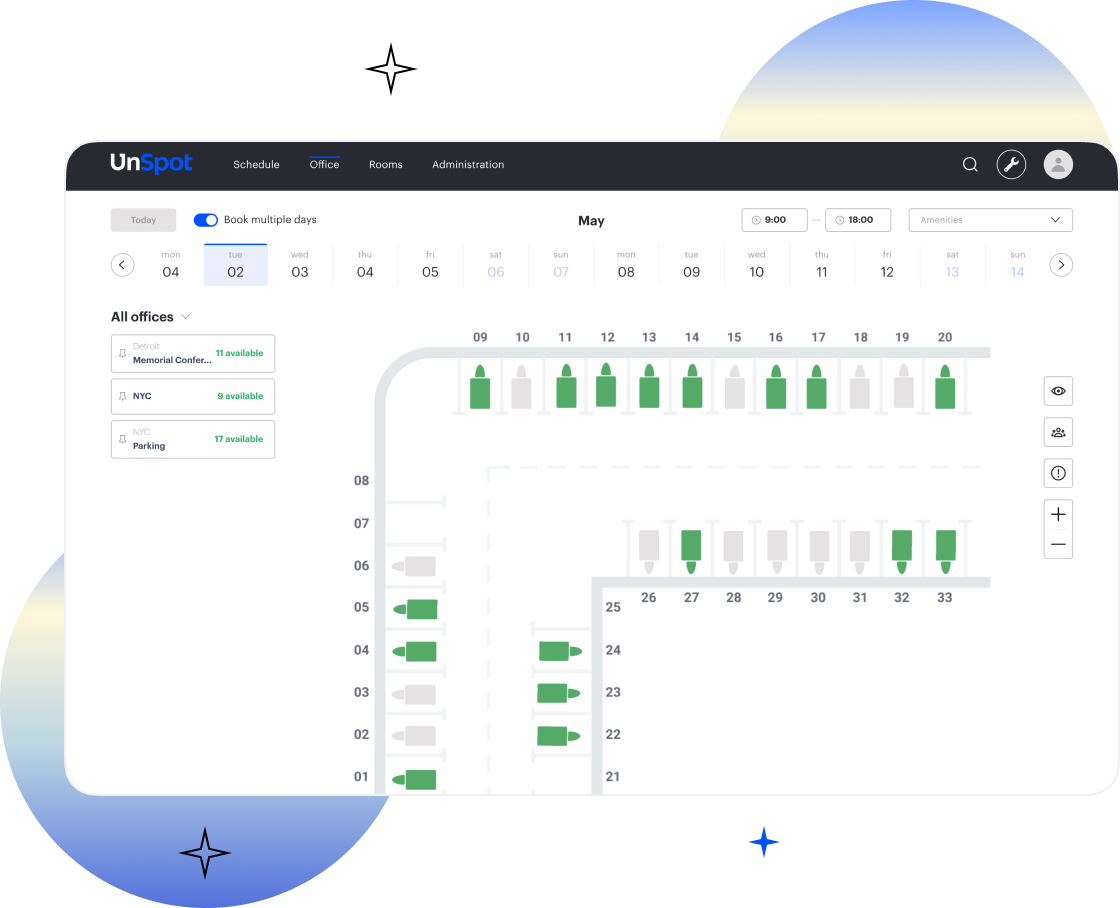 Get started with
UnSpot
Don't let hybrid work get in the way of collaboration. Give employees an easy way to manage their hybrid schedules, invite colleagues to a seat, and book the nearest table.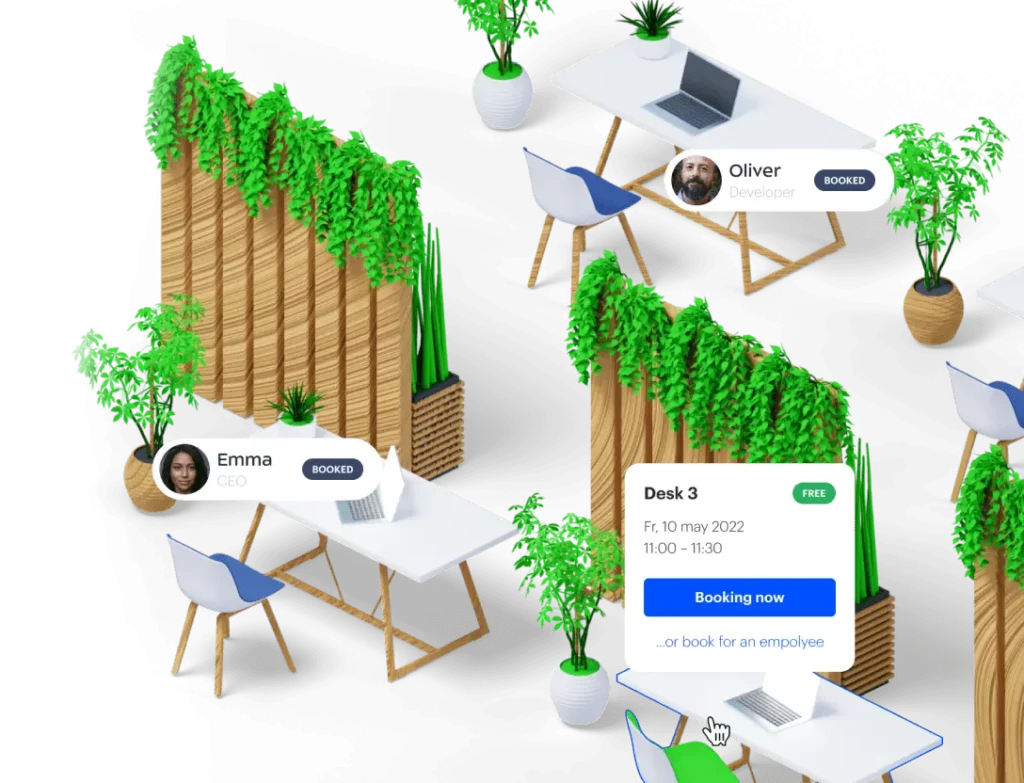 Seamlessly
integrate

all of your favorite tools
Jira
Okta
Zoom
Slack
Microsoft 365
Aruba Clearpass
Zendesk
Exchange
Outlook
Microsoft Teams
Brivo
Asana
Google WS
Gmail
Google_Meet
Google Calendar
Microsoft Teams
Aruba Clearpass
Openpath
Making the hybrid office convenient
for everyone
Hire twice as many employees without expanding your office.
Find out how many work spaces your hybrid team needs so you can reduce rent or find a smaller, more convenient, and better-located office for the same price.
With a comfortable office and a convenient desk booking system, your team will become more loyal and productive.
Frequently
Asked

Questions
What is hot desking?
Hot Desking is a new office space organization model that involves the sharing of desks. That is, a personal workplace is not assigned to employees. They occupy space after prior agreement (negotiate among themselves).

This approach allows to achieve high mobility of employees and to optimize the use of the office. This model was first used in the USA in the 90s. The main reason for the application is to save the company's budget.

As practice has shown, the system of not assigned desks has ideally taken root in firms where employees (not all, but only a part of them, or one or two people) often went on business trips. At the same time, their place is empty without work. If the office is rented, the employer pays a certain amount for this place. Therefore, American and European companies decided to get rid of these costs and switched to the Hot Desking system. Hot Desking has become even more popular since the pandemic when many office workers switched to a hybrid or remote work schedule.
What is desk booking software?
Desk booking software is software that allows employees to book their desks in the office for certain days or hours. Booking jobs is not as complicated as it looks at first glance. And if there are many questions on the technical side, then the principle of functioning can be outwardly described as follows: I found a free slot in the office, booked it and work at this desk. On the plus side is the management, which does not allocate extra funds from the budget for the maintenance of empty office areas, and the staff, which is able to independently automatically book the necessary premises by a certain date and draw up an individual schedule based on this.
What is a hybrid workplace?
A hybrid workplace is a type of workplace where employees are offered flexible options for working in the office, remotely, or a combination of the two. Hybrid workplaces are becoming more and more popular among both employers and employees. The hybrid workplace model typically offers employees the ability to decide for themselves when they work in the office or work remotely, although employers can set rules. This is different from a more structured schedule where employees must be in the office on certain days or hours.
Is your online office desk booking system really free?
Yes, the UnSpot desk booking system has trial access, which is completely free. We don't even ask for credit cards for registration.
Does your desk booking system have integrations with Google Calendar and Outlook? Some other apps?
Yes, we have integrations with the most popular software from the office technology stack: email, instant messengers, calendars, task trackers. Among the software with which we integrate the desk booking system are such programs and services as Outlook, Slack, Google Calendar, Jira, Microsoft 365, and many more.

In addition, if you need integration with some specific software, we are ready to implement it for you.
Is using your office hot desk booking system simple?
Yes, using our office hot desk booking system is very easy due to the user-friendly and intuitive interface. All desks and meeting rooms will be displayed on an interactive map of the hybrid office, and it will be possible to book a desk with just one click using a desktop device or a mobile application.
Our Clients
✕
Faced with modern realities, we decided to find a partner to build a desk booking system. With the help of UnSpot, we were able to completely solve the problem of switching to a hybrid work format for employees, and reduce the area of ​​​​offices, thereby reducing rental costs. We like that UnSpot allows us to organize our workspace quickly and flexibly, and our staff appreciated the simplicity and convenience of the booking system.
UnSpot promptly deployed a system for booking desks and meeting rooms for us, connected and configured our tablets to visualize the meeting schedule. We were also offered a test period with good conditions and product customization to solve our problems.
We actively use UnSpot to organize meeting room reservations and thanks to this we were able to optimize office space and use it more efficiently. I would especially like to note the user-friendly interface and the ability to install a tablet in front of the meeting room to visualize its status – this is very convenient for employees and simplifies the organization of meetings.
Pricing
Small and Middle-size companies
10-999 employees
$5 / month per user or $10 / month per desk
Large-size companies
1000+ employees, customizable features and integrations
Price on request
Get started with
UnSpot
Don't let hybrid work get in the way of collaboration. Give employees an easy way to manage their hybrid schedules, invite colleagues to a seat, and book the nearest table.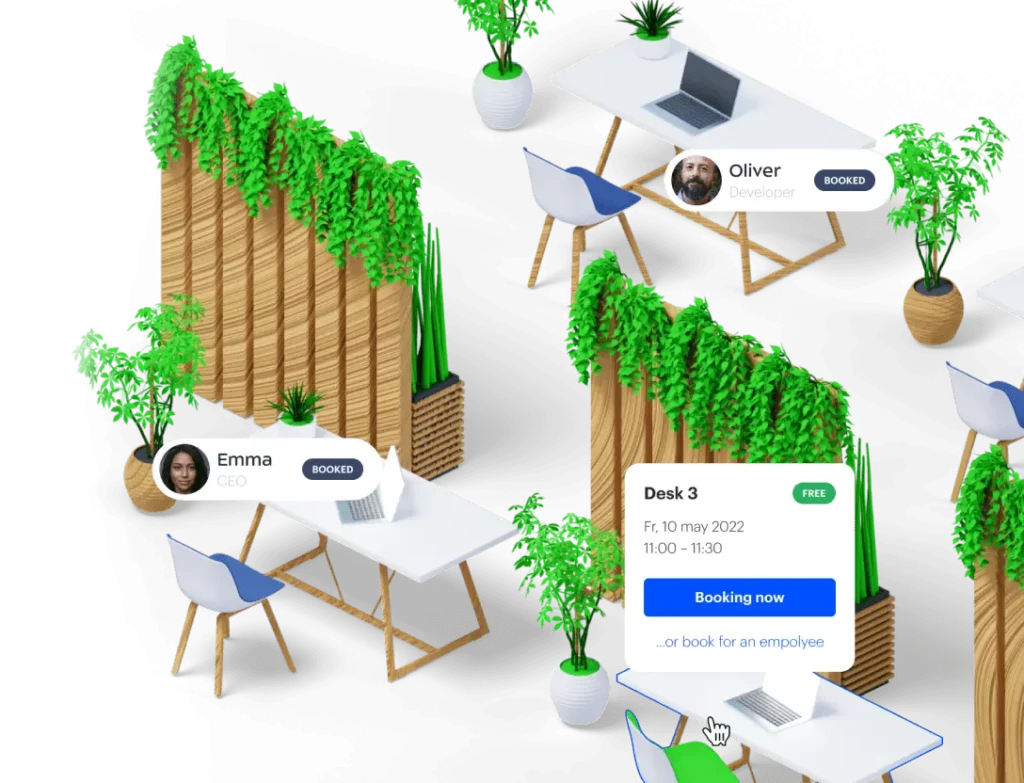 We built UnSpot, combining world-leading technology and years of unrivaled experience, to provide companies an easy and user-friendly tool to manage and optimize their hybrid work. Our system is constantly evolving, aiming to provide more value to our growing customer base. UnSpot is a powerful and flexible tool that can meet the needs of any business

Stanislav Meshkov UnSpot CEO