Visitor Management


System
Designed to create a safe and welcoming environment for all guests. Ensure workplace safety, compliance, and productivity with our reliable solution, making your guests' experience exceptional from the moment they arrive.
Keep your workspace safe
Ensure workplace safety with our secure visitor management system, granting access exclusively to approved guests. This way, everyone inside remains protected and secure.
Optimize your team's efficiency
Say goodbye to the hassle of printing and filing paper documents, manually handwriting badges, or hunting down employees when their guests arrive. Our automated system takes care of everything for you.
Simplify the process of approvals and denials
Define guest criteria for entry approval. Customize building access levels directly in UnSpot, granting appropriate permissions automatically.
Features of Visitor Management
Software
Get a seamless host experience
Effortlessly pre-register visitors or visitor groups. Easily invite them to any location or upload visitor groups using XLS files.
Utilize the global address book for quick re-entry and manage your personal address book efficiently.
Automatically create visits when booking meeting rooms.
Pre-register visitors directly from any calendar.


Simplify host notifications
Check-in: Receive notifications with information collected during registration or the visitor's entrance details.
Denied: Hosts are promptly notified if a visitor is denied entry based on their responses during remote registration.
Check out: Hosts receive notifications when visitors check out.
Status notifications, identity checks, pre-approved visits, emergency messaging
Create a welcoming environment for all guests
Upon arrival, visitors will automatically receive a welcome message containing site-by-site information.
Automate sign-in using the visitor kiosk and lobby display.
eSign for NDAs, Privacy, Compliance ( and other docs.
Health and safety check-ins.


Other features
Personalized check-in process.
Visitor screening, block list and photo capture.
Badge printing.
Get started with
UnSpot
Don't let hybrid work get in the way of collaboration. Give employees an easy way to manage their hybrid schedules, invite colleagues to a seat, and book the nearest table.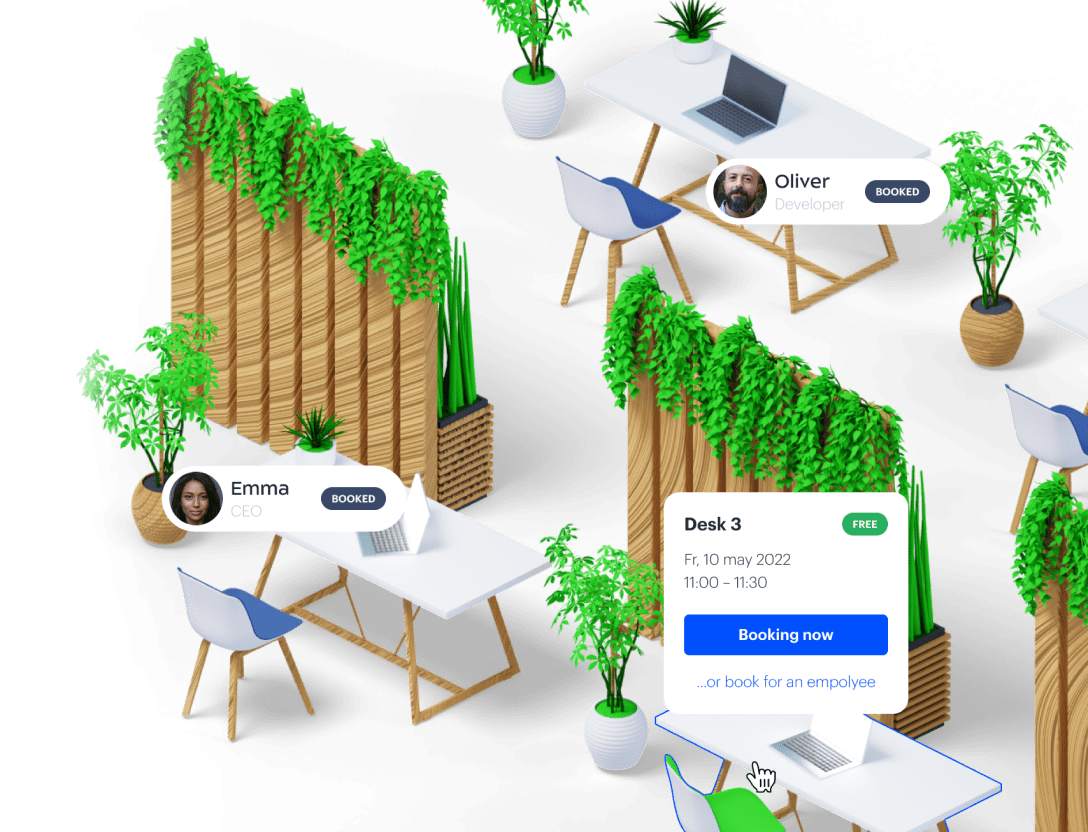 Seamlessly
integrate

all of your favorite tools
Outlook
Exchange
Slack
Zoom
Microsoft 365
Google_Meet
Google Calendar
Jira
Okta
Aruba Clearpass
Zendesk
Microsoft Teams
Brivo
Asana
Google WS
Gmail
Microsoft Teams
Aruba Clearpass
Openpath
Our Clients
✕
Faced with modern realities, we decided to find a partner to build a desk booking system. With the help of UnSpot, we were able to completely solve the problem of switching to a hybrid work format for employees, and reduce the area of ​​​​offices, thereby reducing rental costs. We like that UnSpot allows us to organize our workspace quickly and flexibly, and our staff appreciated the simplicity and convenience of the booking system.
UnSpot promptly deployed a system for booking desks and meeting rooms for us, connected and configured our tablets to visualize the meeting schedule. We were also offered a test period with good conditions and product customization to solve our problems.
We actively use UnSpot to organize meeting room reservations and thanks to this we were able to optimize office space and use it more efficiently. I would especially like to note the user-friendly interface and the ability to install a tablet in front of the meeting room to visualize its status – this is very convenient for employees and simplifies the organization of meetings.
Our experience using the booking system has been nothing short of exceptional. We've found both the mobile and desktop versions to be straightforward and user-friendly. The intuitive interface makes the booking process a breeze, whether you're a seasoned tech user or a complete beginner. UnSpot really shines when it comes to customer focus. They offer a multitude of customization options to suit almost any business need you can think of. In our case, it felt like the system was specifically designed for us, which really goes to show how adaptable it is.We've been consistently impressed with the support from UnSpot's admin team.